Class of 2019
A message to all our bursary sponsors...
In 2018, Big Skies Foundation set a goal to award a single bursary to a rural and less privileged child to attend Hoërskool Hopetown. To feel confident in awarding such a bursary, we needed to secure funding for all five years of high schooling, which equates to a total amount of ZAR 100,000 / EUR 6,700.
In a wonderful and remarkable turn of events, we have been able to award not one, but SIX fully secured bursaries to children this year.
Our primary bursary is targeted at children starting high school from Grade 8-12; and for this we have 4 children starting at Hoërskool Hopetown (2 girls and 2 boys). We also received applications from two other children (currently attending Hoërskool Hopetown) but who's futures at the school had become uncertain due to the financial obligation. The first is Robin-Lee who will be starting Grade 6 this year, and who we have awarded a two-year bursary so that he can complete his primary schooling at Hoërskool Hopetown. The second is Grade 9 scholar, Carl Roodt, who we have awarded a four-year bursary so that he can complete his high schooling at Hoërskool Hopetown.
Selecting Candidates
The selection process involved each of the children submitting a written application, and from this we interviewed each child, as well as their respective teachers, so as to get as good a feel for the child as possible. We are confident that all the children we have awarded bursaries to will really benefit from attending Hoërskool Hopetown and that in this environment they will be able to excel in their abilities.
The bursary is limited to children of previously disadvantaged families, who are living in Hopetown and its surrounding areas, and do not have the financial ability to attend the best schools in their area. Each of their stories is extremely interesting and nuanced – for example, all of them have parents who are working in low paying jobs with limited earning capacity, in a very rural service town (Hopetown) that is characterised by limited opportunity. What became clear from the interviews and our successful applicants, however, is that despite such circumstances, these children are really enthusiastic about their education, about exploring their interests and talents, and recognise that attending Hoërskool Hopetown is a wonderful opportunity to better reach those goals.
Bursary recipients for grade 8-12
Head boy at Oranje Diamant School in 2018. He struck us as a classic intellectual. He has a particular passion for reading and a love for chess. Highly considerate and emotionally aware, leadership is something that comes naturally to him. His calm and engaging manner is disarming, and one gets the impression that he is single minded in excelling and improving himself.
Head girl at Oranje Diamant School in 2018. She is a quiet, considered and curious young girl who is a natural leader amongst her peers. Living and growing up on a farm outside of Hopetown, she represents the sort of candidate that Big Skies always envisaged a candidate to be; rural farm child. She has shown a steely determination to find herself a recipient of a Big Skies bursary.
Her full smile and happy disposition are the first things that struck us when we met Avril. She has a passion for singing and theatre. She literally filled the room with positive energy. Beneath this outwardly gregarious disposition there is clearly a deep drive to succeed and her go-get-it attitude was impossible to ignore.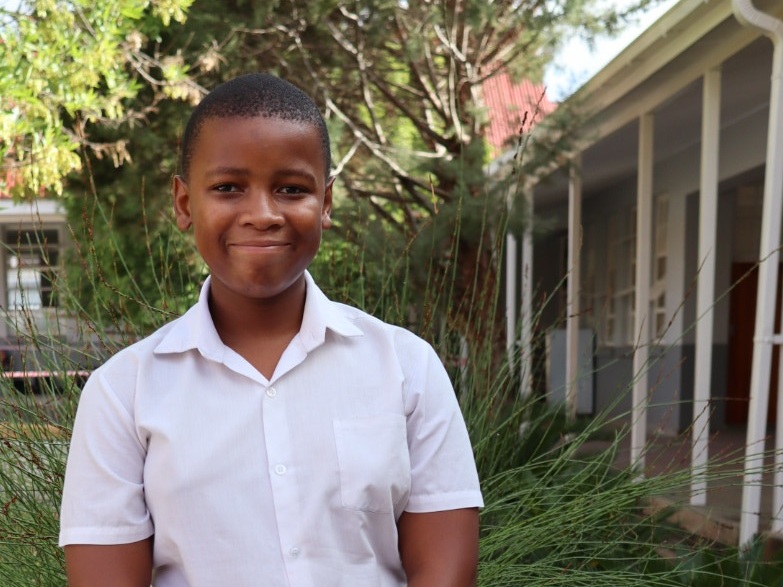 A softly spoken and reserved child by nature, Emerson by his own admission does not like to be the centre of attention. What does particularly interest him is electronics and to exercise this interest he fixes cellphones for friends and family. We were amazed by this focused curiosity and his desire to know more. He is a wonderful child with a curiosity and friendliness which was a pleasure to experience.
BURSARY RECIPIENTS FOR OTHER GRADES
An exceptionally well mannered, kind young boy who has a passion for athletics. He has represented his school at national level at the SASA National Primary School Athletics Championship, winning gold for the 80m sprint. Diligent in his school work, his teacher assured us that even with his busy athletics schedule, he always does his academic work to his best ability.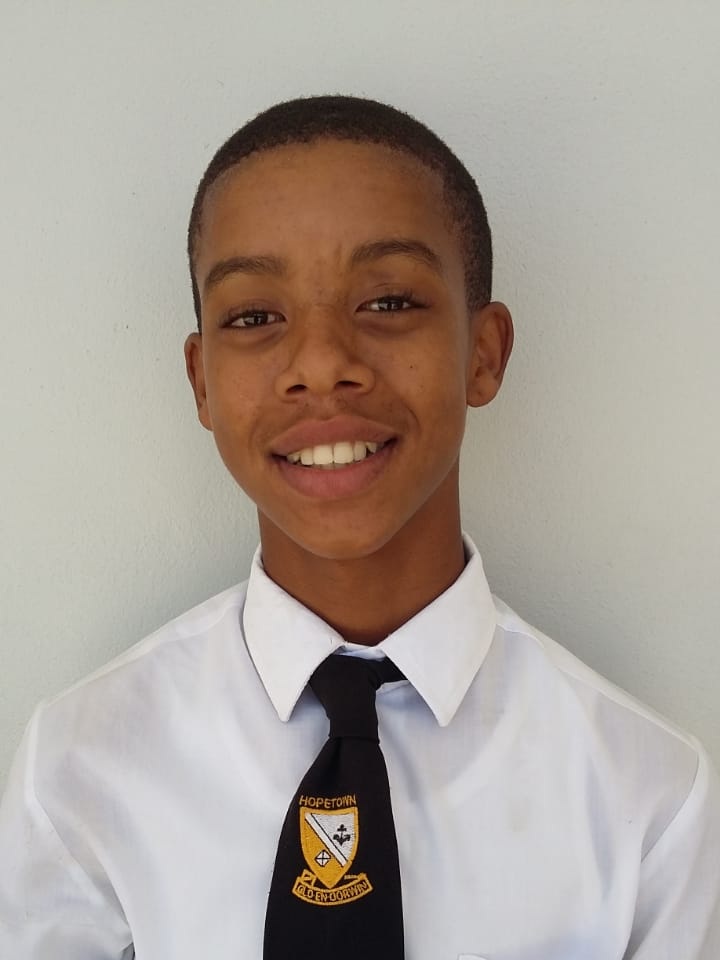 Carl was the head boy of his junior school – Oranje Diamant – in 2017. He has already attended Hoërskool Hopetown for a year, and he blew us away with his emotional maturity and quiet self-confidence. We are excited about him because he is particularly forthcoming in sharing his experiences at Höerskool Hopetown and very willing to help guide the children starting in Grade 8 this year. He is an all round fantastic boy.
It gives great pleasure in being able to assist these children in reaching their dreams. When Big Skies Foundation was 'minted', we coined our strap line; "Colour in a Future", and in our first year, we have achieved that goal, not once, but six times over. This is overwhelmingly, a direct result of the interest and generous financial contributions that have been made by our benefactors.
As the team behind Big Skies Foundation, it has been an extremely rewarding experience and we also appreciate that we now have a real commitment in seeing this group of children through their schooling. We furthermore would like to stick to our goal of awarding one bursary a year, and it's our firm belief that having six bursaries secured has given us a momentum that will garner interest from further benefactors and help us reach that goal.
It is a continuous commitment but one that is certainly worth while when you meet the children face to face and see their excitement and passion.
Thank you so much for your support in helping 2019 start off in such a positive way for these six children. We hope to keep you posted with news as the children make their way through their schooling, so please check in on our blog for updates, or feel free to ask us any questions directly.
THANK YOU!